About the national park
Dovrefjell-Sunndalsfjella National Park is the realm of wild reindeer, Arctic foxes and musk oxen, and is located where the three counties of Møre og Romsdal, Innlandet and Trøndelag intersect.
Experiences and activities
Dovrefjell-Sunndalsfjella National Park and its adjacent protected areas span a large area, and there are many activities to take part in. Some of the experiences and activities described take place in the protected areas, others in the surrounding areas. By choosing the trips and activities listed here, you are helping to take care of nature and wildlife.
Advice and rules for visitors
Everyone is welcome to visit Dovrefjell-Sunndalsfjella National Park, and the Right to Roam allows us to camp on, roam through and harvest from uncultivated land. At the same time, we all have a responsibility and a duty to leave no traces behind and take care of our shared natural heritage. Click to get tips on how to have the best possible experience, and to find out about the rules that apply regarding the use of bicycles, e-bikes, drones and anything else you may be wondering about.
Wild reindeer in Dovrefjell-Sunndalsfjella National Park
Did you know that wild reindeer played an important role when the first people settled in what would later become Norway? Today, we are the only country in Europe that has remnants of the original wild mountain reindeer population, and we have an international responsibility to safeguard it.
Musk Oxen
Dovrefjell is the only place in Norway, and one of the few places in the world, where visitors can experience musk oxen. On a guided tour, it is almost certain that visitors will see this primeval animal at Dovrefjell. The guide will make sure that safety is given priority so that visitors get plenty of time to study and photograph the musk oxen.
Dovrefjell throughout the year
With protected areas stretching from the coast to inland areas, we get large climatic variations. The national park itself, sitting pretty much in the middle of the area, is located in a transitional zone between a coastal climate and an inland climate. Here is a summary of what you can expect regarding weather and conditions during the different seasons, and what it is important to take into account.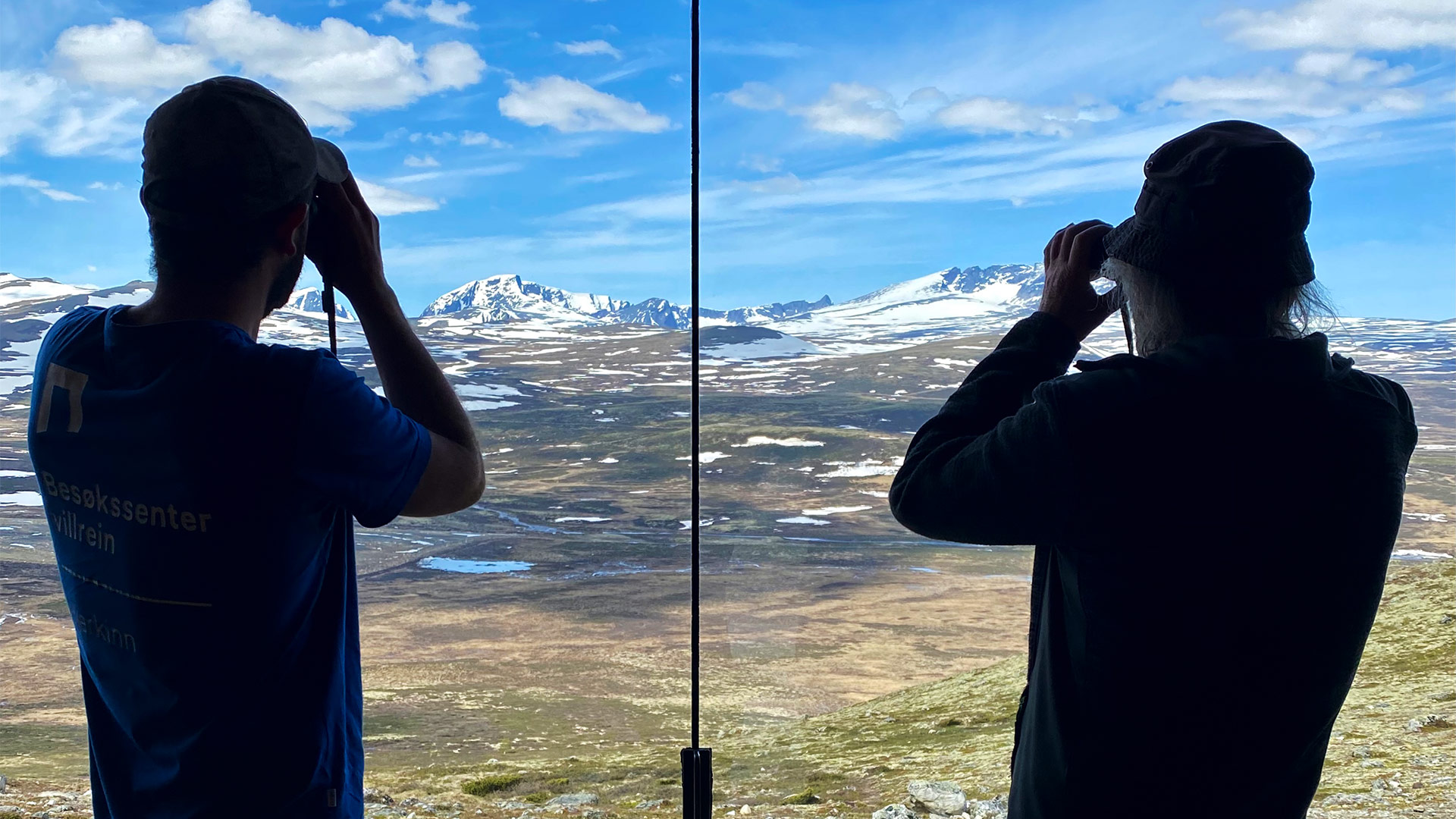 Approaches and starting points
There are several natural approaches and starting points to the protected areas. These are places where visitors can read more about the villages that surround the mountainous areas, and where the best places are to start your trip. We have gathered some great alternatives both for those who prefer to enjoy the views without having to strap on their hiking boots, and for those who wish to spend several days in the mountains.
Accommodation and travel
Wondering how to get to Dovrefjell-Sunndalsfjella, or where to stay? The area is large and there are many possibilities – click to find your route.
| Title | Address | Description |
| --- | --- | --- |
| | Hjerkinn, Norge | |
| | Dovrevegen 3663, 7340 Oppdal, Norge | |
| | Oppdal, Norge | |
| | Gjora, Norge | |
| | Eikesdalen, Norge | |
| | Fv310 7, 6610 Øksendal, Norge | |
| | Øvre Jordalsvegen 125, 6610 Øksendal, Norge | |
| | Åndalsnes, Norge | |
| | Lesja, Norge | |
| | Dombås, Norge | |
| | Dombås, 2660 Dombås, Norge | |
| | Hjerkinn, 2661 Hjerkinn, Norge | |
| | Bjorli stasjon, 2669 Bjorli, Norge | |
| | Åndalsnes stasjon, Jernbanegata 1, 6300 Åndalsnes, Norge | |
How do I get there?
You can drive by car or take a
bus or train,
 all depending on which area you wish to visit.
Tourist information
Tourist information can be found in all the villages around the protected areas.
Viewpoint
viewpoint SNØHETTA, Rampestreken, Tussheimbue.
Welcome to Dovrefjell, take care of nature
The Right to Roam gives you the opportunity to go where you want on foot and on skis. By following waymarked trails and staked trails, you help take care of the vegetation and limit the amount of disturbance to wildlife.
Help us take care of nature – advice and rules for visitors
Cycling on regular bikes in Dovrefjell-Sunndalsfjella National Park is regulated in the interests of other users, and to avoid terrain erosion and the disruption of wildlife. Cycling in the national park is prohibited, with just a few exceptions. Read more about cycling in Dovrefjell-Sunndalsfjella.
The use of motorized vehicles is prohibited in the national park, but is permitted along roads in the protected landscapes during certain periods of the year. E-bikes are defined as motorized vehicles.
Not all parts of the protected areas have cell phone coverage. A good piece of advice is to download the cell phone coverage map for your mobile network before you set off on a trip.
All dogs must be kept on a leash between 1 March and 20 August. Pay attention to local rules and always check the regulations of the municipality in question.
You are allowed to pick berries, mushrooms and common plants for personal use.
You are permitted to pitch your tent wherever you want, as long as it is at least 150 meters away from inhabited houses or cabins. In the interests of wildlife and vegetation, we recommend you pitch your tents in close proximity to tourist cabins.
Make sure you don't leave any garbage behind. Bring a small spade in your backpack so you can dig yourself a small toilet hole – not leaving any traces of toilet visits is a lot nicer both for you and for those visiting the area after you.
Cultural monuments such as the remnants of old houses, trapping sites and cairns are protected. Do not move stones from old walls.
Visitors are permitted to light campfires between 15 September and 15 April. You are allowed to light campfires throughout the entire year in places where there are no obvious fire hazards or risk of forest fires, but please pay attention to local restrictions. Show consideration when collecting firewood.
You may hunt and fish in the national park but remember to buy a hunting/fishing license.
Clothing and equipment. The weather in the mountains can change very quickly, during both the summer and winter months. You are responsible for assessing the weather, traveling conditions, and your level of fitness and skills. You should always have windproof and waterproof outerwear, hats and mittens when hiking in the mountains. The same applies to maps and a compass. Apart from these items, you need to consider what is necessary in terms of the trip you have planned.